Glenbervie
The grandfather of Mountain Biking in Northland.
In stark contrast to the current trend of modern flow-trails, Glenbervie offers a distinctly oldschool trail network of ungroomed technical singletracks in a mix of comemrcial pine forest and pristine native bush. Trails range from an easy Grade 3 all the way to gnarly Grade 5, with the same trail often varying considerably based on ground conditions. What may be a moderate Grade 3 in the dry of summer can become a challenging Grade 4-5 when things get wet and slipepry. There is also plenty of scope for Gravel Grinders with miles and miles of forestry roads and a few 4wd tracks. For all park information please see the Trail Forks website for up to date trail conditions, lengths, directions and maps. The park shares a carpark with Adventure Forest on Maruata Rd (turn off by Huanui Orchards).
Located within an easy 15 minute drive of the CBD, it is the go-to for most serious local riders. The Glenbervie faithful are always keen to play tour-guide, and if you're visiting from out of town this is definitely the best way to get the most out of your visit. A little local knowledge goes a long way, get in touch with the club here or via Facebook and we'll gladly show you around.
Please be aware that Glenbervie is a fully operational commercial forest, logging operations often take place during the week and occasionally on weekends too. Expect vehicle traffic on forestry roads at any time and please comply with all signs and information provided. The club has worked hard to maintain a good relationship with forest owners Rayonier over the past 20+ years, and we hope to continue this forward over the next 20+ too!
All trails are painstakingly hand cut, often following old forestry tracks and ridgelines. Raw and natural with roots and ruts, narrow bridges, and gradients varying from mellow to scary-steep. The absence of machine-built bases means trails are built to the natural lay of the land and are mostly downhill or flat (and all one-directional!).Connected by gravel forestry roads and 4wd tarcks, it pays to plan your ride in advance to minimise the road-riding between trails.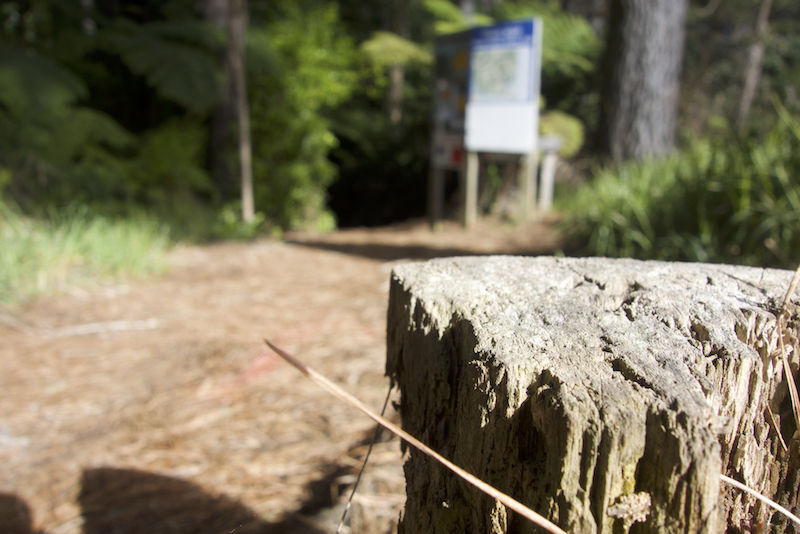 A short entrance trail called Everready links the carpark with the forestry Headquarters, and from here there are many options for a quick dash or an all day epic heading in any direction. Heading north up Main Road takes you to the most well developed area of the forest, where you'll find many of the club favorites like Bone Garden, B'ware The Troll, Toby's Run, Tin-Bum and Lovers Lane. Alternatively, via left down Burma Rd for a more mellow cruise on a mix of gravel and 4wd tracks around to Nursery Flat Rd.
Heading East along River Road there are a few more XC inspired trails including recent addition Just Keeps Going; a 2.5km winding, undulating trail mostly through native bush. Looks flat but there will be plenty of gasping if you keep the pace up! From the exit of JKG you can head back towards the HQ either via River road or up the lung-busting Waitangi Rd, or continue on River Road to Lookout Rd. Follow Lookout Rd all the way to the highest point in the forest (thus the name) then back down to Main Rd and the northern side of the forest, or for the truly adventurous take Native Trail out to Marua Rd.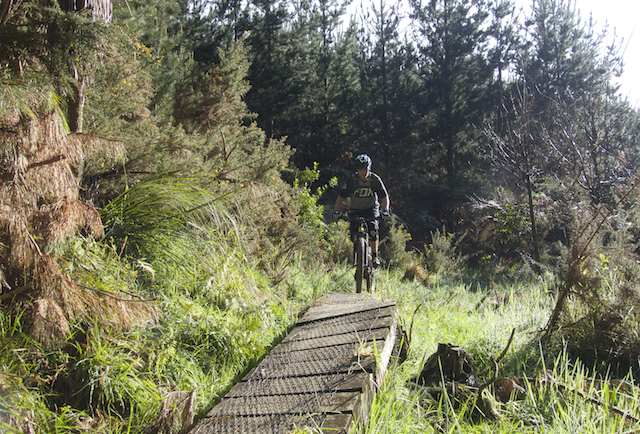 The parks trail network is regularly updated on the Trail forks website and has current grading and conditions. The club is currently in the process of upgrading the trail signage and trail head map.
Some key items to bear in mind:
Although much of the network is fairly challenging, there are still good options for the novice to enjoy a thorough days riding.
Trails can be a lot gnarlier than some riders may be used to with exposed roots, slippery clay, ruts, off-camber sections, narrow bridges etc etc. Good quality mountain-bike-specific tyres are advised especially in the wetter months.
Cellular coverage is scarce in many parts of the park.
There are often long stretches of gravel road in between trails with several good climbs too. Time can get away on you rather quickly, but hey, its not all bad!
Unlike other more developed parks not all obstacles/drops/features are signposted; keep your eyes open and if in doubt "look before you leap" if you're unfamiliar with the trail.
Harden up, it's only gorse.
The entire network is built and maintained by a passionate group of volunteers, keep an eye out for trail faries!